Seasoned Women Wellness Guide
30 Days to a Healthier, More Vibrant, and Confident YOU!
You only have one life to live and one body to live it in!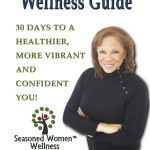 30 Days to a Healthier, More Vibrant and Confident YOU! is your key to useful information in six essential categories and 30 topics.

Are you living a seasoned life that's as sassy, vibrant and exciting as you want it to be?
Are you taking care of your one body the way you should?
Are you aware of important health & wellness issues that concern every seasoned woman?
This handy guide addresses those areas in the life of Seasoned Women.
You can work on a topic a day for 30 days. By the end of those 30 days, you will be more aware of where you want to focus your attntion in more depth to better your health and wellness.
You will explore:
Changing your mindset for success
How to eat to live and feel better
Why and how to move the whole body
Ways to be a natural beauty
Important health issues women face
Realistic ways to deal with weight loss issues
At the end of end day, you get a thoughtful question or statement at the end of each topic that lets you think about how to immediately incorporate the idea into your life. Also, you'll find links to 50 resources for more information in areas of special importance to you.
This is the perfect Guide to increase your understanding in vital areas of life for Seasoned Women. It is a fast, easy source of information that will support your efforts to live a healthier, more vibrant and confident life.
Life is just beginning for the Seasoned Woman. Don't miss out on your chance to be sensational! Put these power tips into practice TODAY!